We offer very competitive rates on loans for New and Used automobiles, signature loans and mortgages. Check our current rates on the
ORLEX Rates Board
. While you're there, click on our
loan payment calculator
to figure payments on any amount.
Debit Cards
Sign up for an ORLEX debit chip card for convenient access to your accounts!
To report a lost or stolen debit card, please call
1-800-528-2273.
Fraud Preventive Services
Members with CU Card debit cards will receive fraud notifications by a text message and/or an IVR (Interactive Voice Response) call in an instance where a suspicious transaction has recently been identified and/or denied. Cards with confirmed fraud will be automatically blocked, preventing further loss and frustration. You will have increased peace of mind shopping with your CU Card debit card as you will receive up to date information related to suspicious activity.
Click here
for FAQ's. These Real Time Fraud Alerts are an exceptional enhancement to our CU Card program.
Phone:
(802)334-5084
Toll Free:
(877)ORLEXCU
Fax:
(802)334-3846
Office Hours:
8:00-4:30 M-F
Mailing address:
ORLEX Government Employees Credit Union
5043 US RT 5
Newport, VT 05855
Physical address:
5043 US RT 5 - Derby Road
Newport, VT 05855
ORLEX News
Dates to Remember
The office is closed on the following dates:
Labor Day, September 6, 2021
Columbus Day, October 11, 2021
New Service!
We can now accept Pay-by-Phone payments/transfers/deposits from your debit card into your ORLEX accounts! More convenience for our members!
LOBBY
Our lobby is open to in-person transactions, masks are available and provided if needed.
Now Available!
Mobile Deposits are now available in your ORLEX app. Agree to the Terms & Conditions and begin making mobile deposits!
Featured Product:
Mobile Banking is Now Available!
Click on your App Store badge above and download our App today! Enrollment in Virtual Branch online banking is required; click on the Virtual Branch tab above and enroll for immediate access to all of your ORLEX accounts!
Attention Vermont State Employees
Now offering membership to Vermont State Employees living and/or working in Orleans County, along with their family members. Please contact us for more information.
eStatements Now Available!
Click on the Virtual Branch tab above and login to your Virtual Branch. Follow the tabs: Self Service/Additional Services/eStatements to sign up with a few easy clicks and you will no longer receive paper statements in the mail. Contact us with any questions you may have.
Services
With a wide variety of services including eStatements, Debit Cards, Share Savings, Share CD's, Share Drafts (Checking), Direct Deposit/Automatic transfer, Credit Life and Disability Insurance, ORLEX is a full-service Credit Union here to serve those who serve us.
To report a lost or stolen debit card, please call
1-800-528-2273.
FRAUD ALERT:
If you receive a call asking for your credit union account numbers, hang up. Notify your credit union immediately. Don't reveal your account information unless you initiate the call. Rest assured that your money is safe right where it is - in your credit union.
NCUA Insurance Information
Deposit Insurance Increased to $250,000.00
The National Credit Union Administration, an agency of the federal government, insures all deposit accounts at the ORLEX Credit Union to $250,000.00. Click here to view a brochure, How Your Accounts are Federally Insured for more information.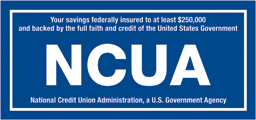 Copyright © ORLEX 2015-2020. All Rights Reserved.